You understand that we provide services to associations, community groups and small businesses. Our services benefits who cannot afford expensive services.  Wonder Web Works services are consultation and advisory in nature. It assists people with their online presence. Services are accessible at its functionary's available time, resources and goodwill.
These terms and conditions govern your use of Wonder Web Works services for a website. By using its services, you confirm that you are in agreement with and bound by the terms and conditions in full.
If you disagree with these terms and conditions or any part of these terms and conditions, you must not use services provided by Wonder Web Works. 
Account Setup
You must complete and activate hosting services for full use.  If we arrange web hosting, quoted times for account activation are estimates. We yet do not guarantee or imply activation within the quoted time frame.
Users must be aware of inherent risks in transmitting information across the Internet. Internet is an insecure public network and has potential risks. Anyone with skills can view, intercept or change files or user's transactions. Downloaded files may contain computer virus, disabling codes, worms or other defects.
For payments, we use considerably secure PayPal gateway.
We do not accept any liability for any damage to a user's computer system, software or data. Users must take appropriate and adequate precautions while using this website.
For privacy concerns, you may wish to visit disclaimer page.
Appropriate Use of Your Website
You must not use our services to cause any damages to other websites. Its use must not be in any way that is unlawful, illegal, fraudulent or harmful. Do not use our services for any unlawful, fraudulent or harmful purposes or activity.
In these terms and conditions, "your user content" means material (including without limitation text, images, audio material, video material and audio-visual material) that your website users/visitors submit to the website, for whatever purpose.  It is your responsibility and obligation to get a worldwide, irrevocable, non-exclusive, royalty-free license to use, reproduce, adapt, publish, translate and distribute your users' content in any existing or future media.  Your user content must not be illegal or unlawful, must not infringe any third party's legal rights, and must not be capable of giving rise to legal action whether against you or Wonder Web Works or a third party (in each case under any applicable law).
Wonder Web Works does not undertake to monitor the publication of such content to, or the submission of such content on, the website we assist to publish.
It is your responsibility at all times to:
Use our services in a manner which does not violate any applicable laws or regulations
Respect the conventions of the newsgroups, lists and networks that you use
Respect the legal protection afforded by copyright or other intellectual property rights, trademarks, license rights and other laws to materials accessible via our service;
Respect the privacy of others
Use the service in a manner which does not interfere with or disrupt other network users, services or equipment; and
Ensure your use of our services remains ethical and in accordance with accepted community standards
You must at all times comply with law.  You will be in breach of this policy on violation of state, federal or international laws.
You accept that, as a limited liability entity, Wonder Web Works has an interest in limiting the personal liability of its owner, officers and employees.  You agree that you will not bring any claim personally against Wonder Web Works owner, officers or employees in respect of any losses you suffer in connection with its services.
Without prejudice to the foregoing paragraph, you agree that the limitations of warranties and liability set out in Wonder Web Works services for publishing websites disclaimer will protect Wonder Web Works officers, employees, agents, subsidiaries, successors, assigns and sub-contractors as well as Wonder Web Works.
No warranties
Wonder Web Works services for publishing websites is provided "as is" without any representations or warranties, express or implied.  Wonder Web Works, with its limited skills pool and dependence on third party applications, makes no representations or warranties in relation to the website or the information and materials provided on the website you will publish.
Wonder Web Works is not responsible or held liable or does not warrant that:
the website will be constantly available, or available at all;
web site or applications will be error free;
the website will be free from software incompatibility, hardware or software issues, outages, failed deliveries and any service interruption, such as denial of service attacks or other hacking attempts that is out of control of any service providers;
the information on Wonder Web Works services for publishing websites is complete, true, accurate or non-misleading; or
it will publish or realise everything you wish on the website. The functionality and appearance will be limited by the installed software and template.
Limitations of liability
You hereby agree to defend, indemnify and undertake to hold Wonder Web Works harmless against liabilities arising out of any loss of service, business, indirect, incidental, consequential, special, exemplary or punitive damages, including loss or corruption of information or data, loss of revenue /profit /goodwill /reputation /anticipated savings; costs, liabilities and expenses (including without limitation legal expenses and any amounts paid by Wonder Web Works to a third party in settlement of a claim or dispute) incurred or suffered by Wonder Web Works arising out of any breach by you of any provision of these terms and conditions, or arising out of any claim that you have breached any provision of these terms and conditions or result from any service provided, performed or agreed to be performed or any product sold by you, your agents and employees or for any matter whether such liability is asserted on the basis of contract, tort, breach of warranties either expressed or implied.
These limitations of liability apply even if you have been expressly advised of the potential loss.
Should we be notified of pending legal action or intention to seek legal advice, we may seek written confirmation from you concerning your obligation to indemnify Wonder Web Works.   Failure to provide such confirmation may be considered a breach of this agreement.
Breaches of these terms and conditions
Without prejudice to Wonder Web Works other rights under these terms and conditions, if you breach these terms and conditions in any way, Wonder Web Works may take such action as Wonder Web Works deems appropriate to deal with the breach, including suspending our services to your company and recovering any loss.
Variation to the Terms & Conditions
Wonder Web Works may revise these terms and conditions from time-to-time.  Always check our website for revised terms and conditions. It will apply to the users of Wonder Web Works services. Please do check the disclaimer page to ensure you are familiar with the current version.
Unenforceable provisions
If any provision of Wonder Web Works services for publishing websites disclaimer is, or is found to be, unenforceable under applicable law, that will not affect the enforceability of the other provisions of Wonder Web Works services for publishing websites disclaimer.
Reasonableness
By using our advice and services for publishing your website, you agree that the exclusions and limitations of liability set out in this disclaimer are reasonable.
If you do not think they are reasonable, you must not use our services.
Registration and authorisation
Wonder Web Works is registered with Australian Business Register.  Wonder Web Works' ABN is 89 450 093 303.
Wonder Web Works details
You can contact Wonder Web Works by email to info@WonderWebWorks.com.au.
Wonder Web Works - Your Local Affordable Website Provider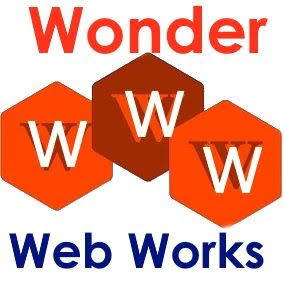 Services
Website Design, Development and Publishing
Provider
Wonder Web Works
,
Telephone No.0447 726 339
Area
Canberra ACT, Queanbeyan, Yass, Goulburn, NSW, Australia
What
Please see terms and conditions for our services. We provide affordable, quick, secure and easy to manage websites. Our services are suitable for you, and your community and businesses. We also provide advise and services for your e-newsletters and communication tools.